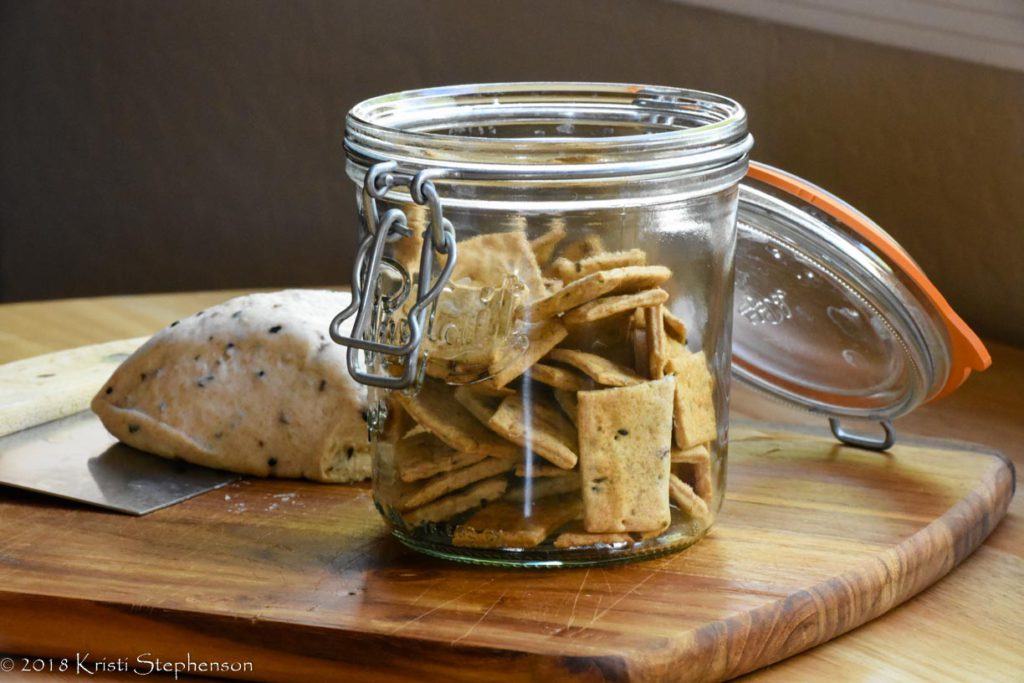 If you are looking for an easy way to use up some of your "old" sourdough starter, look no further than this sourdough crackers recipe! It is one of my favorite ways to use up the discarded starter from refreshing. In fact, I love it so much that this past weekend I pulled the starter out of the fridge to refresh it. All so I could get some old starter to make these sourdough crackers 🙂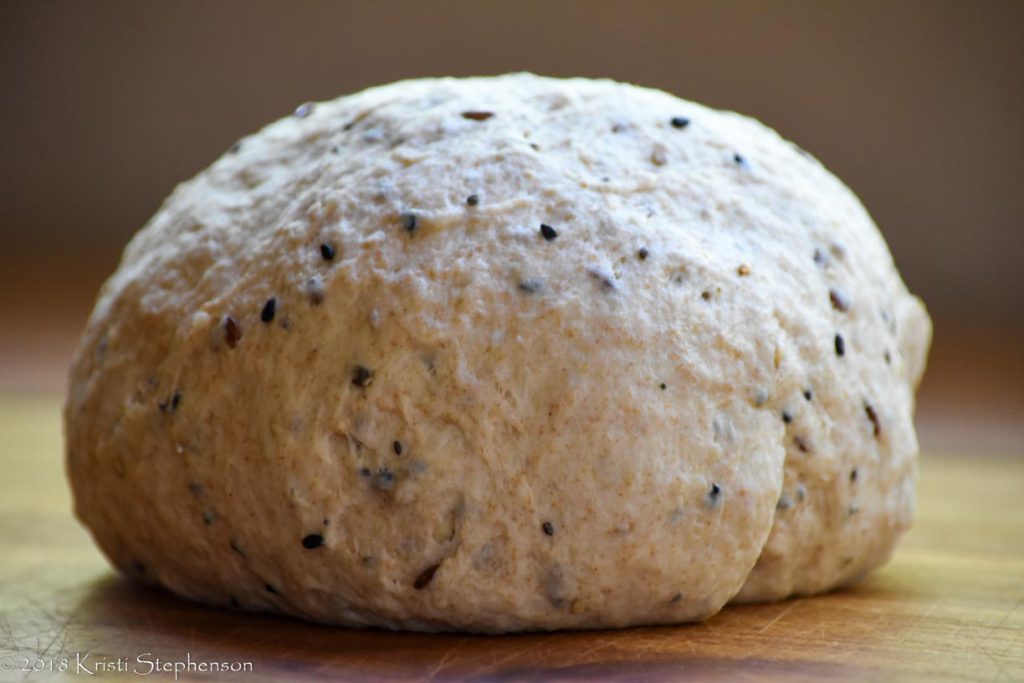 If you don't have a sourdough starter, just divide the amount of starter used in this recipe in half, and substitute that amount each of flour and water. You should end up with a similar dough consistency. Of course, you will be missing out on some major flavor that the starter provides! So a better option here is to read my post on sourdough starter to get your own underway!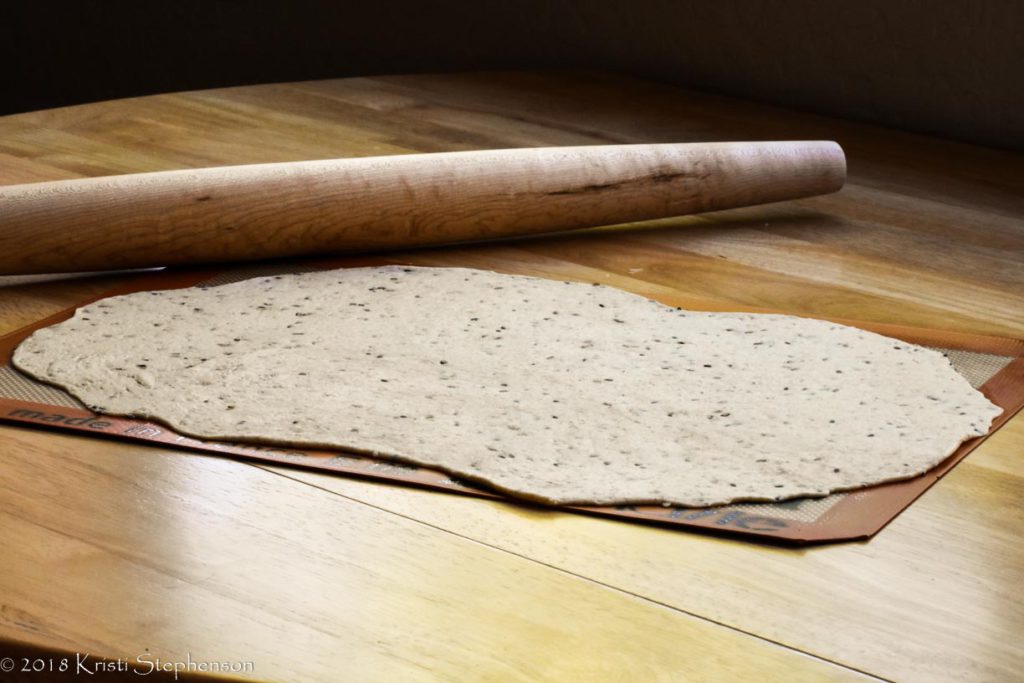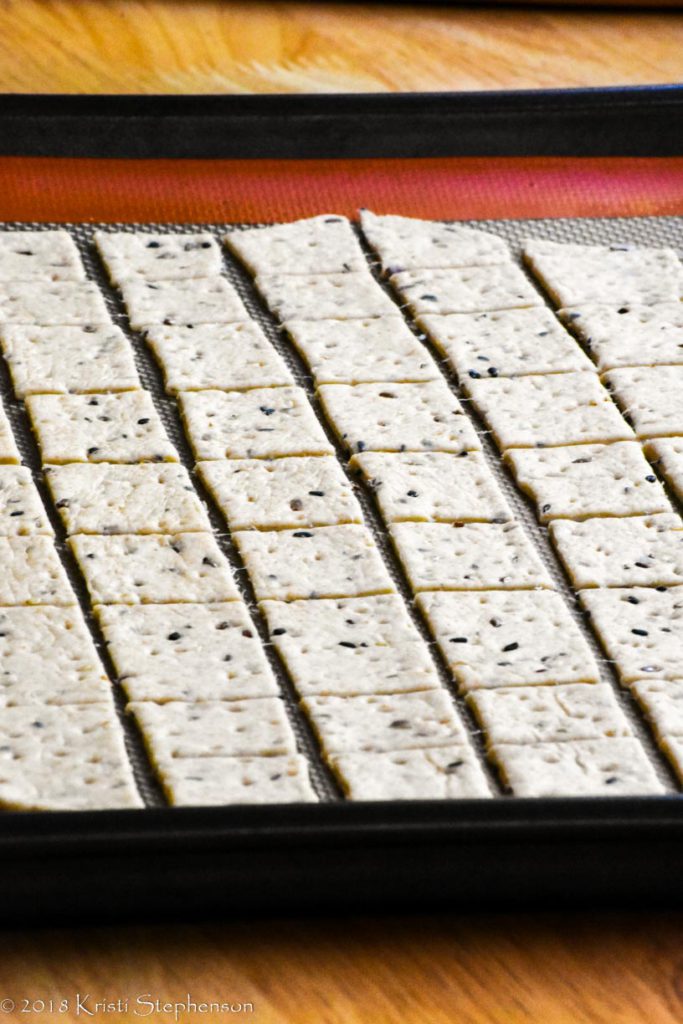 You can make this sourdough crackers recipe with any number of flavors added in, but this seeded version I give here is my favorite one so far. The notes in the recipe give a few other flavor ideas too. Try a few out and see which one is your favorite!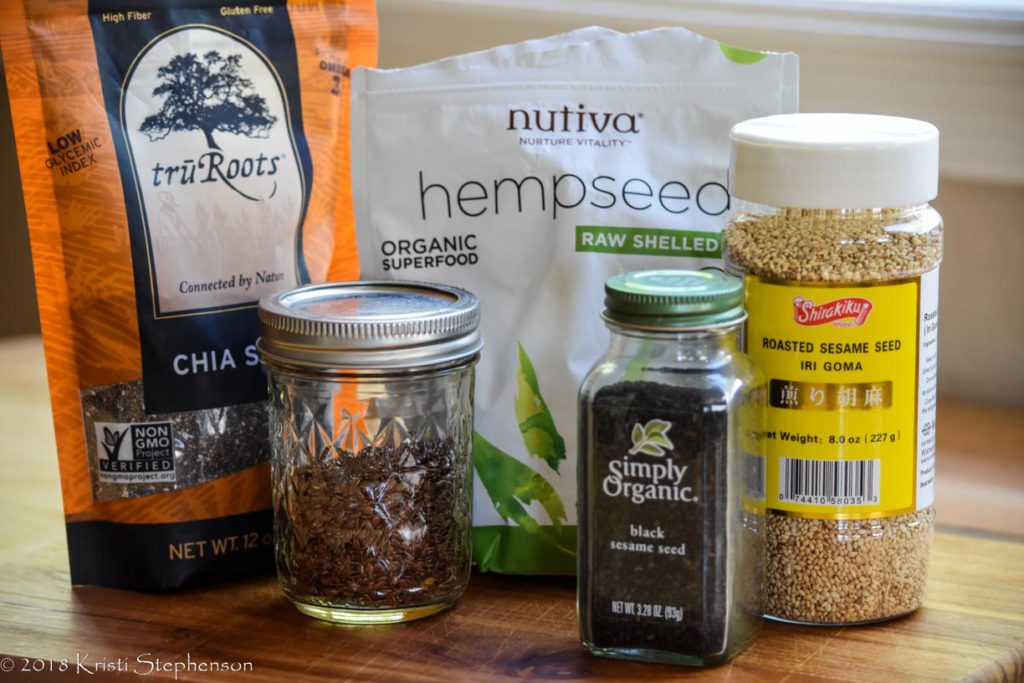 Because I don't refresh my starter very often, I still discard the first split when I refresh. After that, I check the smell of the starter next time I go to refresh. If it does not have a strong alcohol smell, I will use it in recipes like this one. Of course, if you are keeping your starter out and feeding regularly every 12 hours, you could just save the discard in the fridge until you've accumulated enough to use. I've found that the discarded starter can be held in the fridge for 2-3 days before using, if need be. Again, if saving, just watch out for that alcohol accumulation and strong smell.
Additions to the starter
The olive oil in this recipe gives the dough a tenderness, and adds just a touch of richness to the sourdough crackers. You could substitute in any fat of your choice. For the salt, you can add it to the dough like I do here. Or if you prefer, you can use a larger crystal salt like kosher, and sprinkle it on top of the crackers after you roll them out. This would give a nice salty edge, if you like that.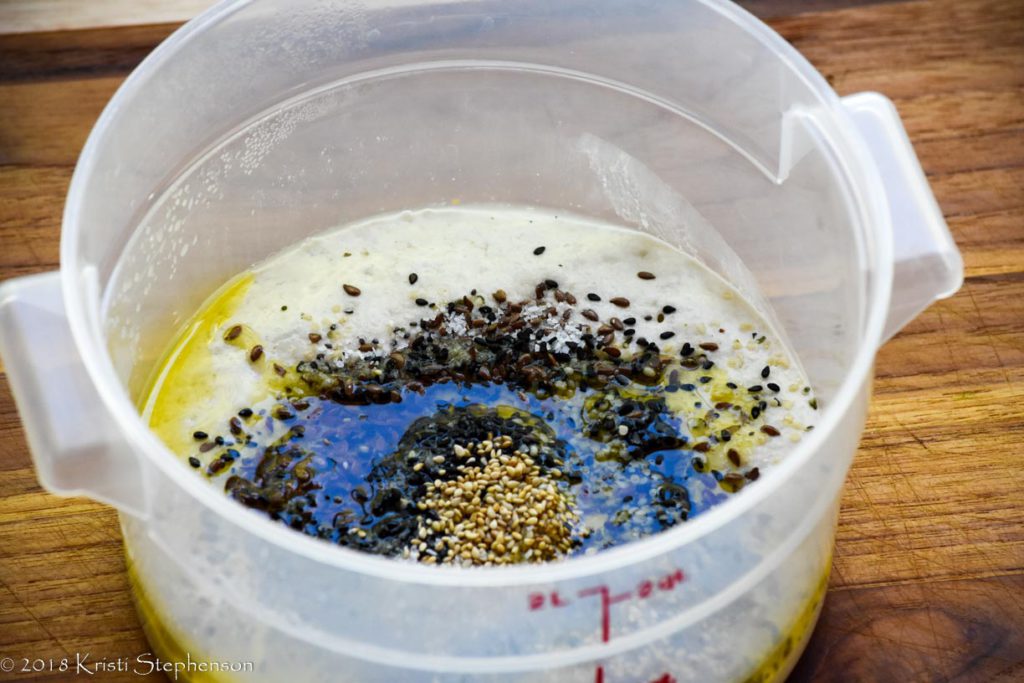 Your imagination is really the limit here! If you don't like whole wheat, use all purpose white flour. For thin and crispy crackers, roll the dough out really thin and bake until nicely browned. If you prefer a cracker with just a little give, don't bake as long. Or if you like your crackers thicker but still crunchy… don't roll the dough out as thin, and bake it well. Play around with the variables, and see what you like the best. If you are keeping a sourdough starter around, then you should have plenty of discard starter. Experiment with it and perfect your own sourdough cracker recipe. My goal here is just to give you some tools to use. Enjoy the process!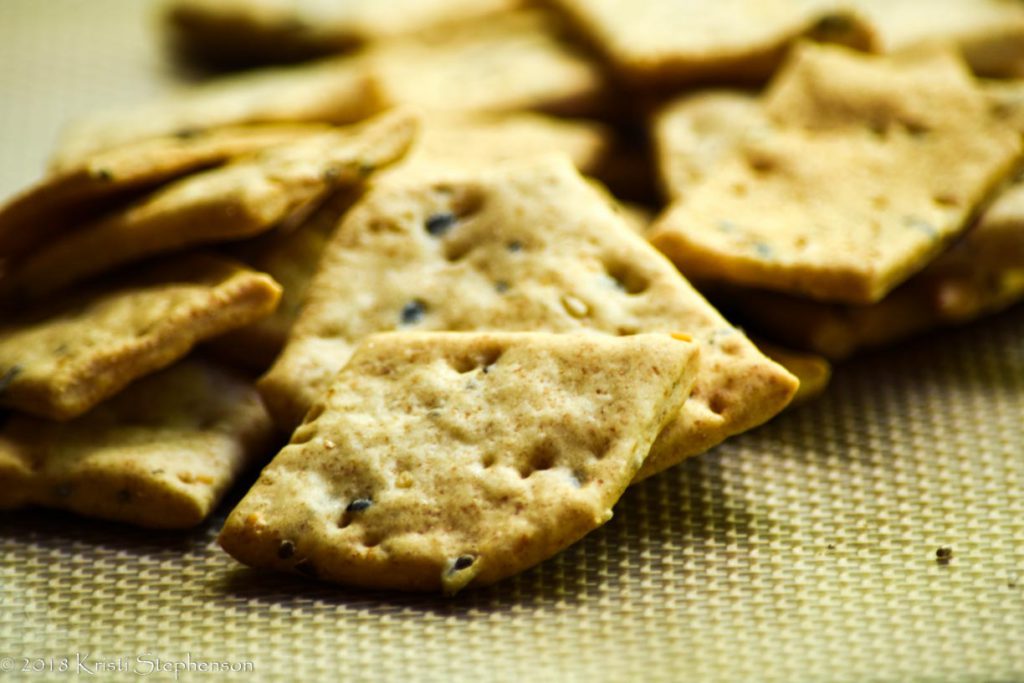 One last pointer – if you don't know what a "dough docker" is, or have never used one – they are great! You use it to roll across the dough once it is in its final shape. It puts little indents/tiny holes into the dough to help minimize air bubbles while baking. I use one instead of a fork. It's great for making pie crusts, and any other type of dough (like these sourdough crackers), where I don't want a lot of air bubbles introduced during baking. Click here for a link to the one I use.
Freeze it for later
You can also make a big batch of this cracker down and freeze it to bake later – I do this all the time when I have extra starter left over from a baking session. I have found that ~200g of dough is about right to roll out for one cookie sheet. So, I freeze that size dough ball, wrapped in saran. The froze dough will last for up to 6 months (and maybe longer). Give it 24 hours to thaw in the fridge, or even less on the counter, and you can roll out and bake fresh crackers with less than 5 minutes of your time, and about 45 minutes in the oven!
Seeded sourdough crackers are the perfect healthy dipper! Full of healthy fats, whole grains, and flavor. Excellent for dipping in everything from hummus to peanut butter.
Ingredients
Dough

350g Old sourdough starter
100g Whole wheat flour
100g Bread flour or All-purpose flour
3.5 Tablespoons EVOO
1 Teaspoon salt
Water - a couple tablespoons as needed to bring the dough together
Seeds

1 Teaspoon Chia seeds
2 Teaspoons Flax seeds
2 Teaspoons Hemp seeds
1 Teaspoon Sesame seeds
1 Teaspoon Black Sesame seeds
Instructions
Preheat the oven to 350°F.
Add the old starter to a mixing bowl.
Add in the EVOO, salt, and seeds, and mix well.
Add in the flours, and start to mix.
Add water as needed to bring the dough together (may need a couple tablespoons).
Once the dough comes together, switch to the kneading hook, or transfer to the counter to knead by hand.
Knead for just 2-3 minutes (up to 5 if by hand), until the dough feels nice and pliable. It should be soft but not tacky. Since you are not trying to achieve any gluten formation, not much kneading is required.
Form a nice ball, cover, and let rest 15-20 minutes.
Cut the dough into thirds. One third rolled out thin should be about the size of a half sheet pan (18x13 inches).
To roll out: use a rolling pin, and roll out the dough on either a Silpat or parchment paper. Roll evenly as thinly as possible without breaking through the dough. Pay special attention that the edges get rolled thin as well.

(I find that pulling the dough off the Silpat periodically, then continuing to roll, allows for better stretching and a thinner final product.)

Once rolled out, use a fork or pastry dough docker to mark the dough and minimize bubbling while baking.
Finally, cut into ~1 inch squares. A pizza cutter works really well for this!
Transfer the Silpat or parchment to the baking sheet, and bake at 350°F for 15-20 minutes, until hard to the touch and lightly browned.
Cool, and store sealed for up to 10 days.
Notes
Some other flavor ideas:
Plain, with just sea salt, or sea salt and pepper
Rosemary and fresh cracked pepper
Cumin and oregano
Other herb combinations (herb de provence, Italian mix)
Change out the fat for a different flavor profile. Try using something like coconut oil, or bacon lard.
Try adding crushed red pepper for a spicy kick!
Nutrition Facts
Seeded Sourdough Crackers
Serves 10 crackers
Amount Per Serving
Calories

94

% Daily Value*
Total Fat

3.5

5.4%
Saturated Fat
0
Trans Fat
Cholesterol
0
Sodium
0
Total Carbohydrate

14

4.7%
Dietary Fiber

1

4%
Sugars
Protein

2.5
| | |
| --- | --- |
| Vitamin A | Vitamin C |
| Calcium | Iron |
* Percent Daily Values are based on a 2,000 calorie diet. Your daily values may be higher or lower depending on your calorie needs.
https://www.cookcraftcultivate.com/cook/seeded-sourdough-crackers/
Copyright © 2018 Kristi Stephenson. All rights reserved.