If you check in to the blog regularly at all, you may be wondering why it's been a few weeks since I posted anything. Well, I have been working on a few exciting projects that have been taking up most of my extra time! I thought I would take a few minutes to give you a sneak peak on things… Consider this your miscellaneous mid-summer "project update" post!
Etsy Shop: Now Open
First is a project update on my photography side-hustle. I recently pulled the trigger and opened an Etsy shop! This is something I have been wanting to do for years, really. My inventory is small and I will continue to see how I want to grow it, but just taking the step forward and putting some of my work out there is exciting. (And a little scary too!) To start, I am just selling some of my photos, matted. I plan to expand the prints I feature, add some sets of greeting cards, and likely some other fun crafts down the road. We will see… 🙂
For now, if you'd like to check it out, you can find me at TheStephensonShop.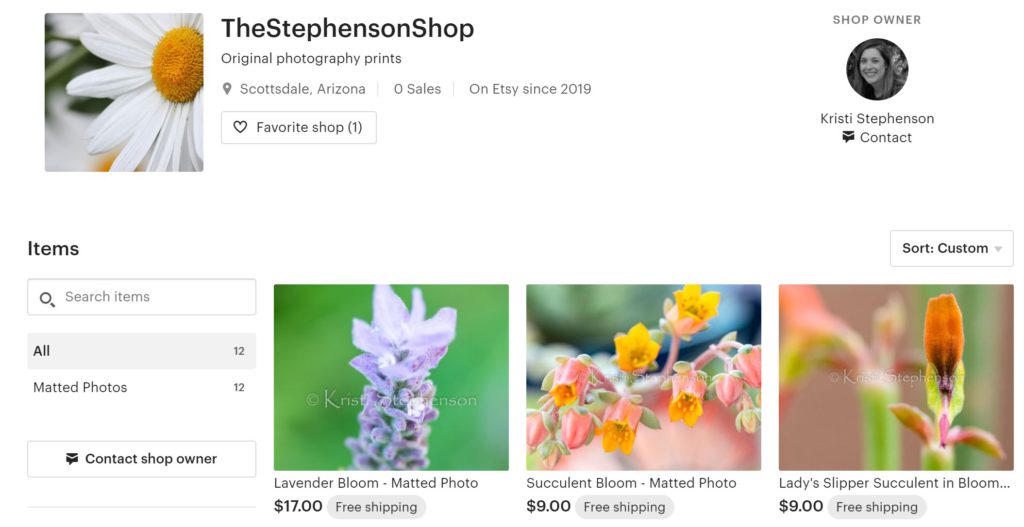 I selected a few of my favorite photos to include for starters, across a variety of genre to see what seems to stick best. My online portfolio is a nice display of what I would consider many of my other best photos. If there is an image from the larger portfolio that you are interested in, just send a message and I'll be happy to accommodate your request 🙂
Office Remodel
Part of this summer project update also involved an office remodel, so I now have a better table/workspace and also a lot more storage!! Thanks IKEA! 🙂 My favorite office additions are TWO of these GERTON wood tabletops with adjustable OLOV legs, and a custom KALLAX cubby system. And of course, there is still plenty of space for the fur-babies to join me 🙂 (In case you are curious or looking for suggestions, I finished the raw wood tabletops with a natural Danish Oil and wipe-on poly. I'm really happy with how they turned out.)
The big tables in front of the window are an ideal staging spot for photos (I can manipulate that natural light and add in more if needed); as well as an excellent work space for cutting photo mats, etc. And who doesn't love storage? Complete with DOORS and DRAWERS and BASKETS. I love the crisp clean look.
Garden Expansion
The OTHER project update we have been working on is expanding our garden space. This has both an indoor and an outdoor component…
INSIDE we added a new growing rack that gives us more space for starting seeds.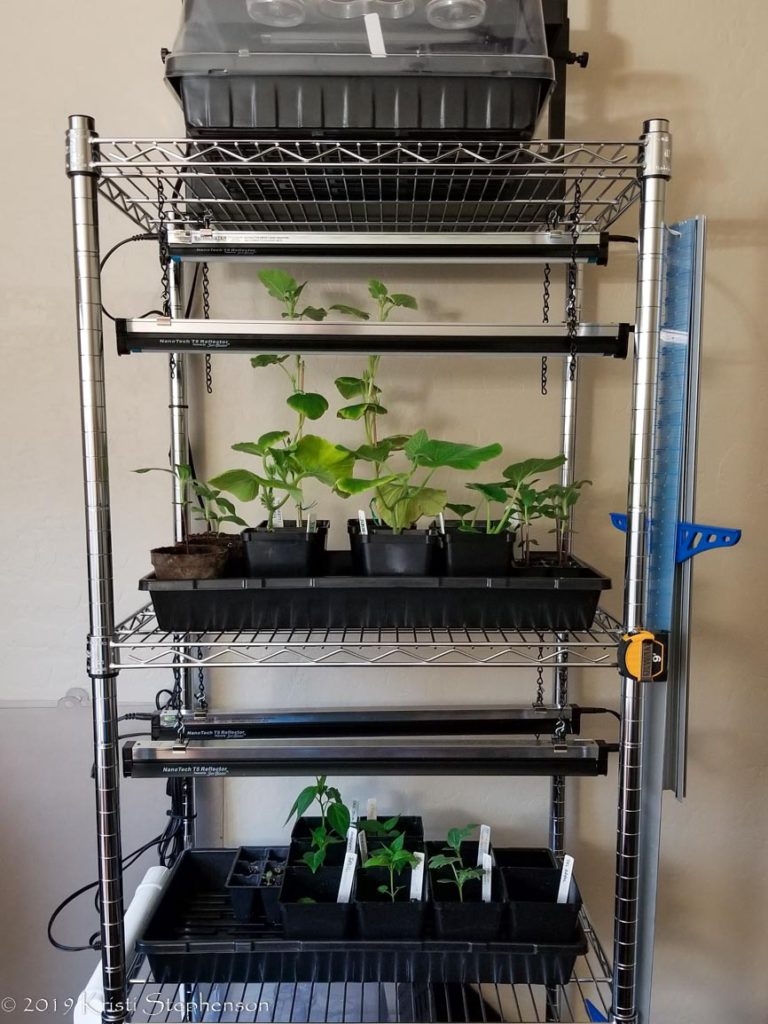 I am experimenting with seed starting indoors during summer to give some of my fall plants a head start, so they don't wither in our summer heat. I know, usually you would start seedlings indoors to try to get a head start on the COLD. Well here in the southwest desert things are a little upside down for growing seasons… Fall marks the start of a new and very prolific season for us. I am hoping to be able to take full advantage of it this year!
First up is some winter squash. I am starting acorn, spaghetti, and butternut squash indoors to transplant as soon as the monsoons kick in.
Later in August I plan to try jump starting some lettuce and other leafy greens, to give them a head start before transplanting into the garden in September. I am hoping to get lots of greens growing this fall!
OUTSIDE we had to add on to our garden beds to accommodate all the squash seedlings I started. (Whoops 😉 ) Hubby helped me build two more beds, and we ordered a squash tunnel from Gardener's Supply. It looks really great installed in the garden, and I can't wait to see it covered in squash vines!
What's Growing in the Garden Now (July)?
I will wrap up with a quick update on how the garden is doing now that we are mid-July. For one thing, it is HOT. Days are consistently over 100°F, reaching towards 110°F. However, we are lucky in that we have several large trees around our yard, and this provides partial shade on and off most of the day. Because of this, many of our plants are still doing well. We have yellow squash and zucchini, cucumbers, green beans, laccinato kale (plants established earlier in the spring are still growing well!), malabar spinach, and eggplant (proliferous and loving the heat!)
We have several eggplant varieties growing, actually – the traditional Black Beauty, an Indian variety called Ratna with 2-3 inch sized fruits, and a Japanese variety called Ping Tung. The later hasn't produced any fruits yet, but the plant is growing well, so hopefully we will see some fruit set soon. The Black Beauty and Ratna are producing well and we have harvested a couple times already!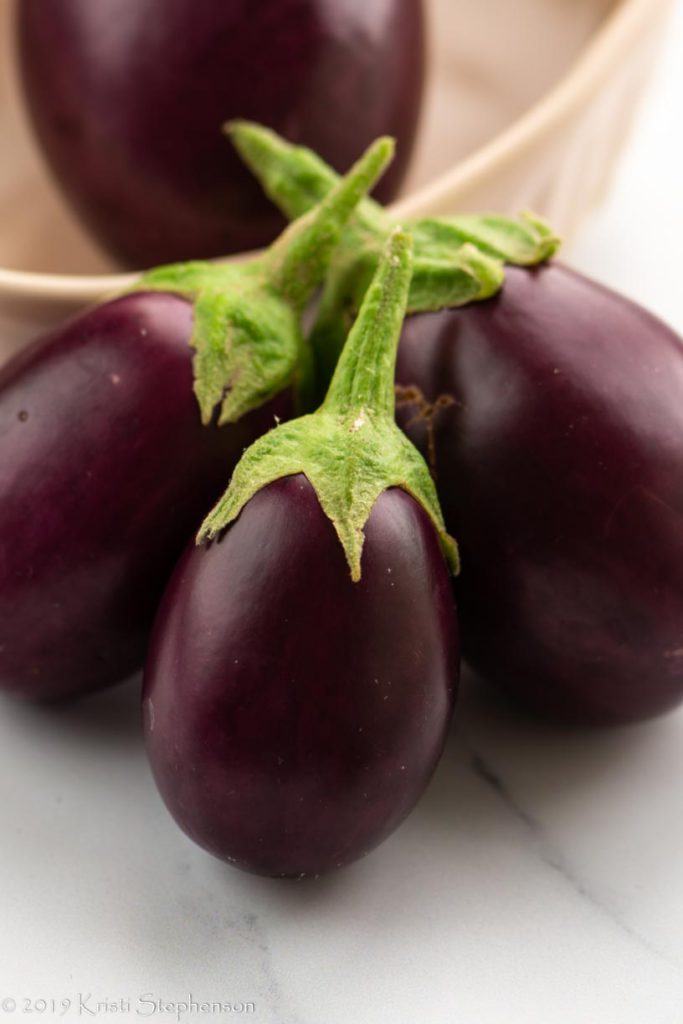 Our tomato and tomatillo plants are growing like crazy. Fruit production is slow, which is to be expected with this heat. But since the plants are vigorous, we are hoping that once it cools back down we will get a good late summer harvest before we pull them out.
And of course, I would be remiss not to mention our chile's. We have several varieties growing: Jalapeno, Serrano, Anaheim, Sweet Red, Del Arbol, Ordono. All except for the Sweet Red continue to set fruit and ripen. This is easily Hubby's favorite part of the garden 🙂 This time of year, he has a daily fresh supply of spice!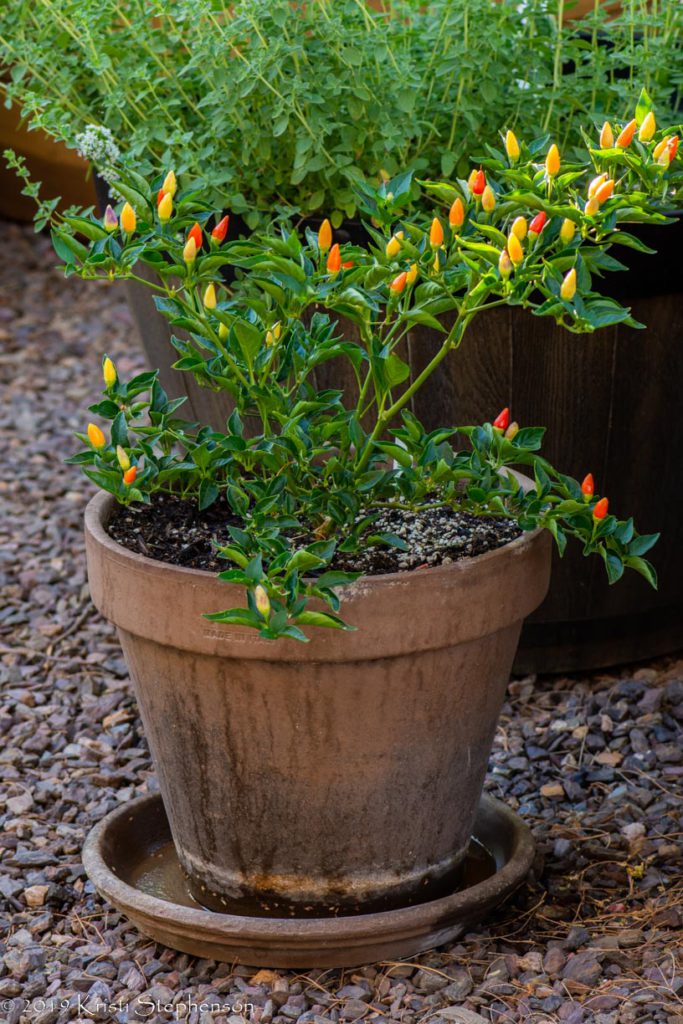 And that's all I have for you for now. More to come in the near future! I hope you are having an enjoyable and productive summer!