Tonight I made smoked turkey breast for dinner. I know, we are past the holidays. (Yes, we did smoke a turkey for Thanksgiving this year 🙂 ) I don't often think about cooking turkey outside of the holidays, but it really is a great option any time of year! And usually pretty economical too. We are trying to eat more lean meats, and I also wanted to cook something that would leave some nice left-overs. So I got a bone-in skin-on half turkey breast at the grocery this weekend.
I debated on the cooking method – traditional roasting in the oven? Try the clay-pot roaster? (I have yet to master this method and wasn't feeling that adventurous tonight.) Smoked?
SMOKED. I think one of my favorite ways to cook meat these days is on our Traeger.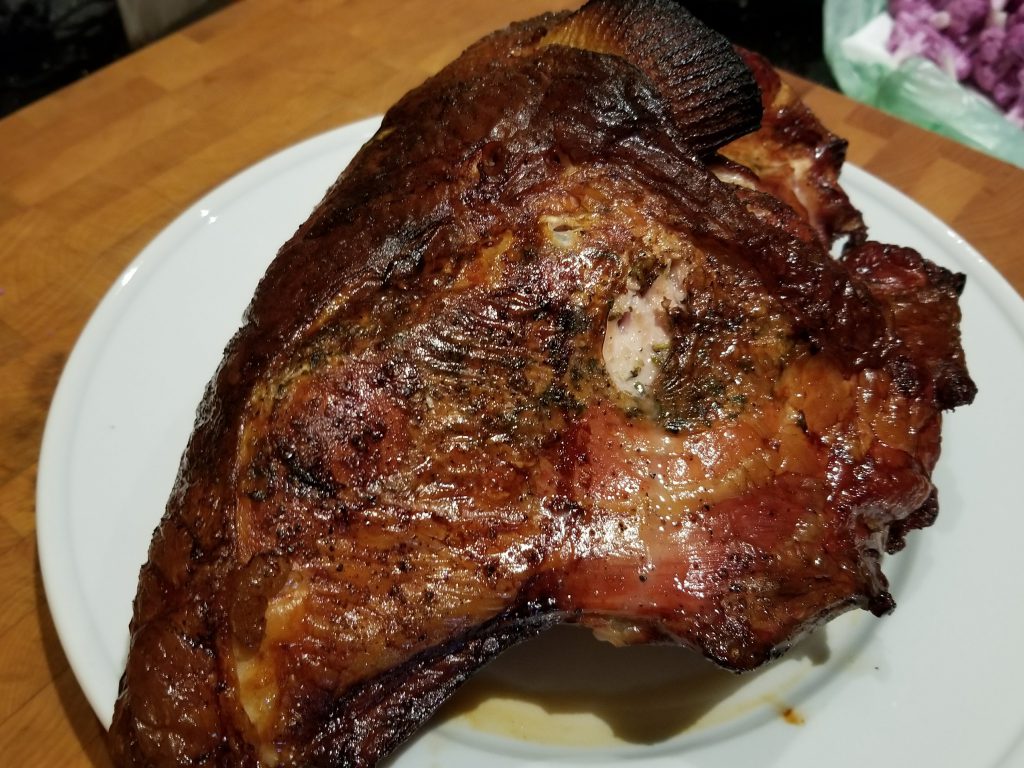 What is a Traeger?
For my full overview of the Traeger, and a deeper look at everything you can do with it, visit this post.
But basically, a Traeger is a wood pellet BBQ/oven.
It runs on electricity (so you plug it into an outlet).
The electricity powers an auger at the bottom of the grill that moves the wood pellets into the fire pot. There they are ignited by a fire rod, burned, and turned to ash.
You can control the temperature much like an oven (with a half dozen specified temperature selections). The hotter the temperature, the faster the pellets move into the fire pot and are ignited.
If you set the temperature really low, you can cook things long and slow, and they usually stay really moist. Our most recent adventure with this loooonnngggg method was smoking a 10 pound pork shoulder (read more about that here).
You can really do so much more than smoke meat on a Traeger, too! You can bake in it, roast in it, grill in it, make pizza, you name it! I've baked bread, roasted vegetables, cooked stuffed peppers, grilled hamburgers, and more!
We picked ours up from a local Costco road show this past spring, and we have already put a lot of hours on it! Find out more about this grill on Traeger's website. And be sure to download their app if you are looking to expand your recipe selection.
Smoking the Turkey Breast
Tonight's turkey breast was about 5 pounds. I pulled it out of the fridge around 3pm, made a quick herb butter with salt, pepper, herbs de provence, and lemon juice, and rubbed it underneath the skin. Then salt and pepper all over, and into the Traeger! There are a lot of fancier things I could have done, like brining, for example. But this was a weeknight for goodness sake! I just wanted to cook a yummy dinner without too much effort 🙂 I set the temperature on the Traeger to 225F. Based on some reading I had done, I expected the turkey breast to take about 30 minutes per pound, so 2.5 hours. But by 6pm, it was still reading at ~130F, so I cranked the temperature up to 425F to finish it off for about another hour, until it hit 165F in the middle, close to the bone.
One of the fun things about the Traeger is that you can use different types of wood to get different flavor profiles. Traeger gives recommendations of what type of wood will pair well with what type of meat, but there is a lot of flexibility with your options. Tonight's turkey was "mesquite smoked." I really love mesquite chicken, so I decided to give it a try with the turkey. It turned out yummy!
Oh, and there were some veggies featured on the dinner plate tonight too 😉 I did a quick swiss chard saute with a few microgreens tossed in for extra flavor, then topped with lemon juice. I have discovered that swiss chard turns out best if you braise it first. Just add some liquid to the pan and set a lid on top for ~ 5 minutes, then finish off the sauteing. It has a nice tender texture, without being totally wilted and dried out like a full-on saute can seem to do.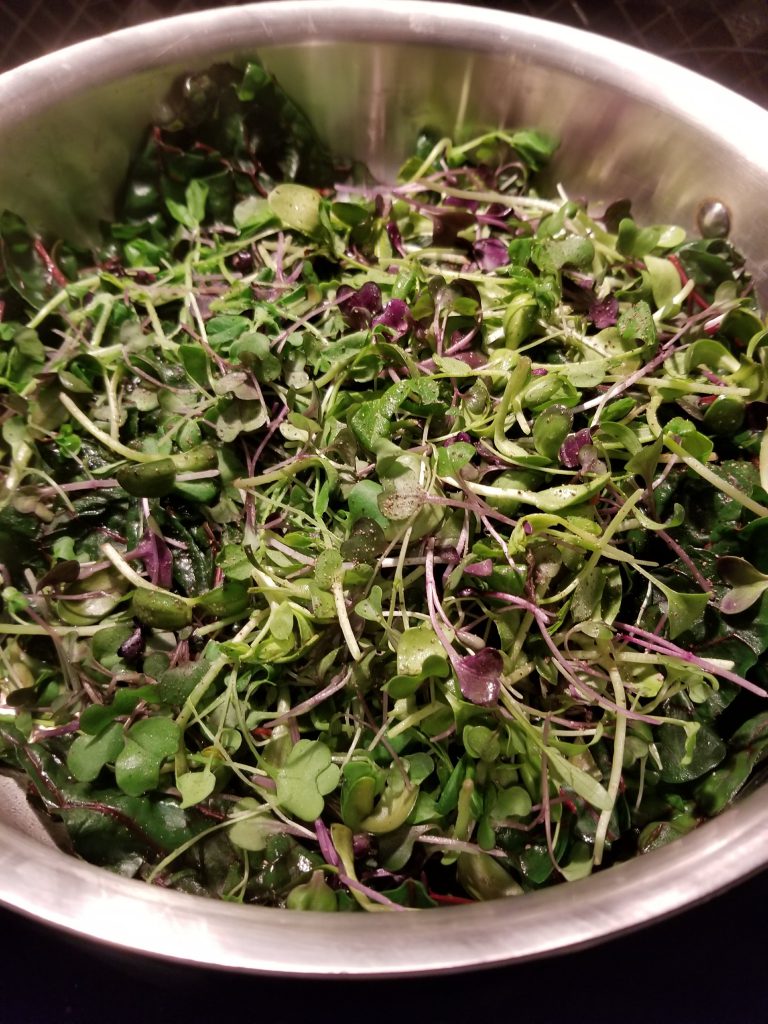 Traeger-Smoked Turkey Breast
Mesquite smoked turkey breast makes an easy, delicious dinner!
Ingredients
Turkey breast: bone-in, skin-on, ~5 pounds
Butter, 1 stick unsalted
Herbs de provence
Juice of one lemon
Salt and pepper
Mesquite pellets (others can be substituted)
Instructions
Make the Herb Butter

Soften the butter until it is mixable but not melty.
Mix in the herbs de provence a few pinches at a time, adjusting until the butter seems fairly well saturated.
Do the same with the pepper, and add a few pinches of salt.

(I always use Kosher salt, but any will do here.)

Finish off by adding the lemon juice, adding slowly so as to not make the mixture get too watery (you want to be able to spread it under the skin so it should still be a soft solid after you mix everything together).
Start the Traeger

Tip:

If you start up the Traeger when you are ready to start prepping the turkey, it should be about to temperature by the time the turkey is ready.
Set the Traeger's temperature to 225F.
Prep the Turkey

Pull the turkey breast out of the fridge 30 minutes - 1 hour before you plan to start smoking.
When you are ready to start, rinse the breast well inside and out, and trim any excess skin or fat from around the edges.

(Be sure to clean the sink well after this!)

Use your hand to gently separate the skin from the meat.
Spread the herb butter under the skin, so that it sits directly on the meat. Transfer it with your hands, and then you can press on the outside of the skin to move it around and get full coverage.
Salt and pepper the outside of the turkey breast as well.
Smoke the Turkey

Place the prepped turkey breast on the pre-heated Traeger.
If you want to, you can insert a thermometer now in order to track the temperature as the breast cooks. You can also just check it a few hours later and then monitor as needed.
In theory, a turkey breast should take ~ 30 minutes / pound, so 2.5 hours for this 5 pound breast. However, I ended up smoking at 225F for 2 hours, and then cranking the heat up to 425F for another hour to get from 130F to 165F in time for dinner.
Notes
To check the temperature of a piece of meat, you want to place the thermometer close to but not touching the bone. This is usually the last place to get fully cooked. I usually also test in a few other locations just to be sure.
Let the meat rest for at least 15 minutes (and up to an hour) before slicing to serve. This ensures the juices get a chance to settle into the meat, and won't all rush out if you cut it when it's piping hot.
https://www.cookcraftcultivate.com/cook/traeger-smoked-turkey-breast/
Copyright © 2018 Kristi Stephenson. All rights reserved.