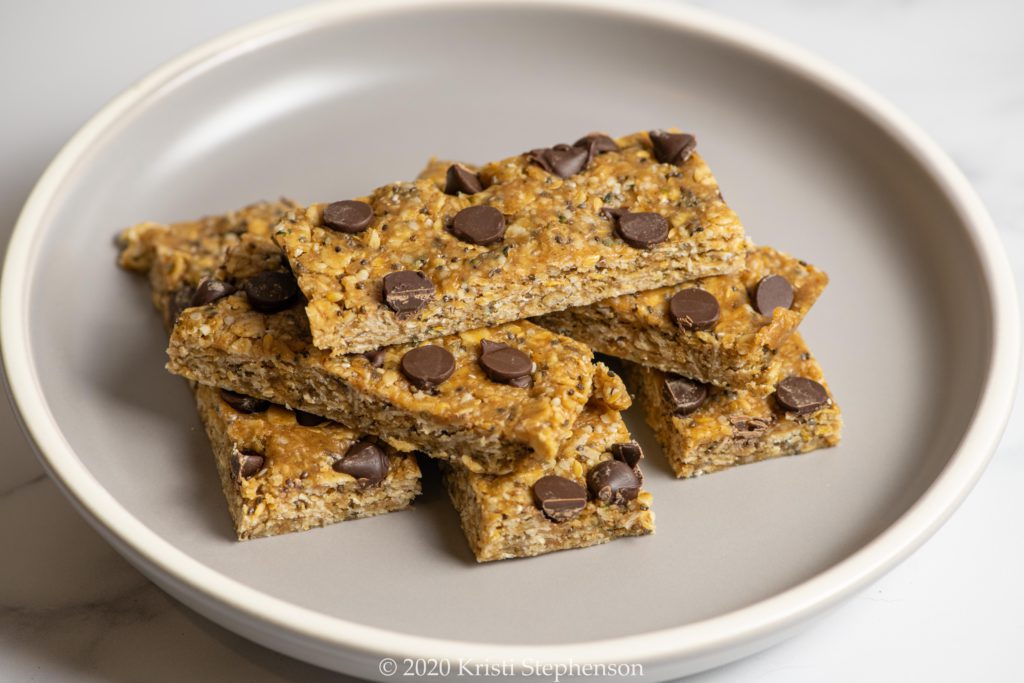 I am going to start this post off with a confession – Hubby and I eat a lot of bars. Energy Bars, protein bars, granola bars… They are a quick and efficient snack, and a way to keep going throughout the day. When I am on the road for work, I always pack a bag full of different bars – in case a meal is late or missed, or there are no healthy snack options around the hotel, I like to be prepared.
But let's be real. Protein bars are 1) quite pricey (up to 3 dollars a bar is not uncommon!!!); and 2) not exactly "natural." Although there are some pretty decent options available these days. But for a girl who strives to make as much of the food we eat from scratch as possible, and who also tries to minimize packaged, processed foods (even if they are "healthy"), protein bars don't really fit the bill.
So I've been on the search for some tasty homemade healthy options that still meet the "quick and efficient" requirement. And could even be pack-able if necessary. Enter these peanut butter oatmeal energy bars! These are:
Easy to make
Only use a few ingredients
Can be easily modified for your personal preference, or the ingredients you have on hand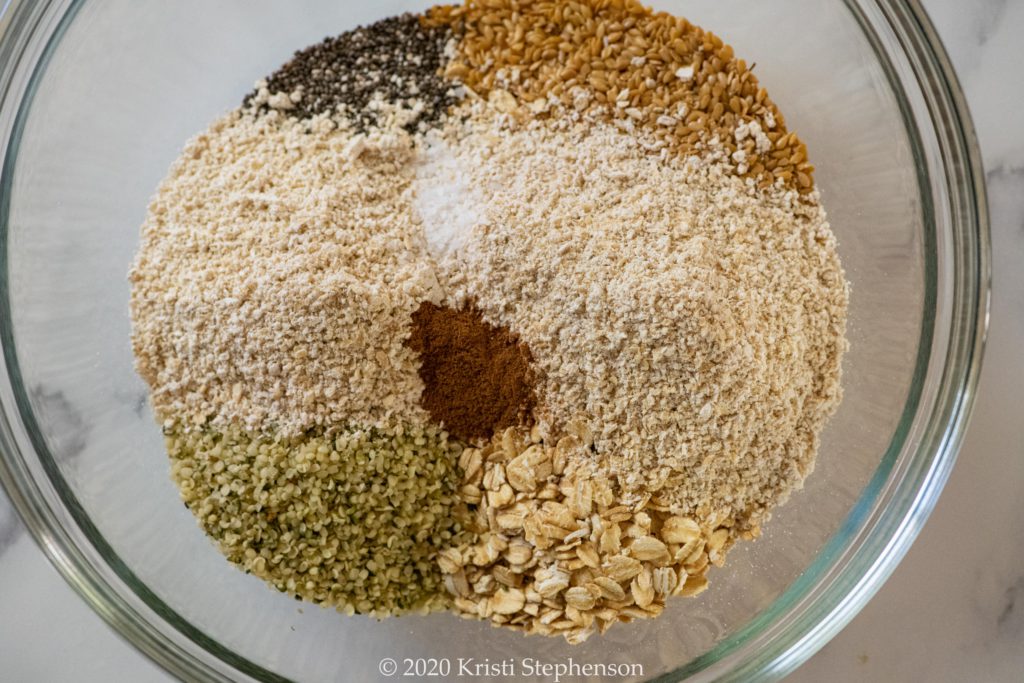 I am calling them "energy bars" because they are not super high in protein. But, it would be very easy to add in your choice of protein powder for a protein boost if desired. I'll mention in the recipe how I would recommend modifying if this is something you want to try.
If you've ever tried a GoMacro bar, these aren't quiiiiite a true copycat, but they are similar in texture and flavor.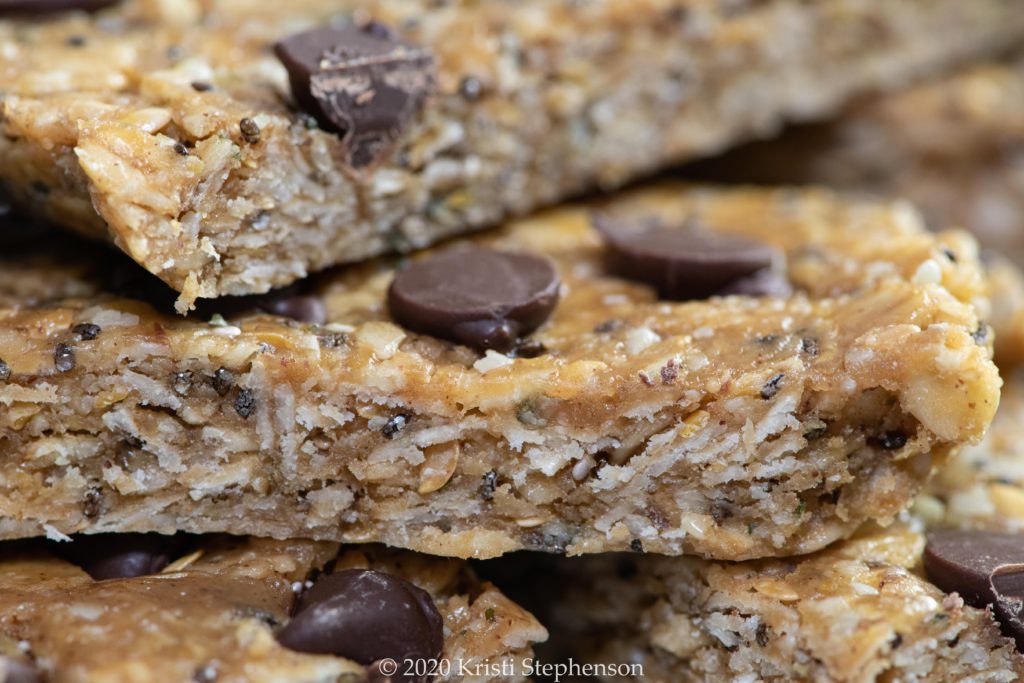 Are these Cheaper than Store-bought Energy Bars?
I was also curious to do a price breakdown on these. I usually get my hemp hearts, chia seeds, maple syrup, and peanut butter from Costco, which probably adds to the savings since those can tend to be pricey ingredients. Keeping that in mind, here's the price break down for these homemade energy bars…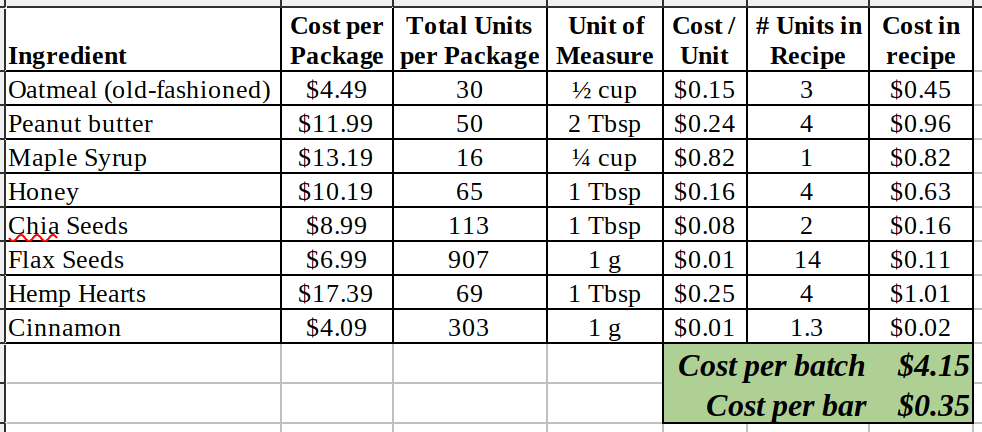 Whoa!! 35 cents?!? I figured these would be cheaper than a store bought bar for sure, but this is a savings of $2.65 from any $3.00 bar you would buy, like our favorite GoMacro bars I mentioned earlier. If you were buying 10 of those a week… you would SAVE more than $25 dollars just by making these tasty, easy, simple, bars at home! That's a win-win in my book! 🙂
Recipe Time!
Shall we get into the recipe? I hope you find these energy bars as tasty and satisfying as we do! And that you have some fun experimenting with different ingredients to find the flavor combination(s) that you like the best!
Peanut butter oatmeal energy bars are quick, easy, and made from just a few ingredients!
Ingredients
1 1/2 - 2* cups oatmeal (old-fashioned)
1/2 cup Peanut butter
1/2 cup honey, or 1/4 cup honey & 1/4 cup maple syrup*
2 Tbsp Chia seeds
2 Tbsp Flax seeds
4 Tbsp Hemp hearts
1/2 - 1 tsp Cinnamon (depending on preference)
Pinch of salt
Instructions
If desired, blend 1/2 cup of the oatmeal into oat flour.
Combine in a heat-proof bowl: oatmeal, oat flour, seeds, cinnamon, salt, and any additional ingredients. Mix to evenly distribute.
Combine the peanut butter, honey, and maple syrup (if using) in a sauce pot (non-stick preferred).
Heat on medium heat, stirring often, until fully combined and fairly runny.
Pour peanut butter mixture over remaining ingredients, and stir to combine. It will become the consistency of a very thick cookie dough.
Transfer to a small cookie sheet and press out to desired shape/thickness. (I recommend lining with parchment paper, and also putting a piece of parchment on top so you can press out with out the bars sticking to your hands or utensil.)
Place in fridge for at least 1 hour to cool before cutting into bars.
Store in a sealed bag or container in the fridge for up to 10 days.
If they are too chewy straight out of the fridge, let sit at room temp for 5-10 minutes before enjoying.
Notes
Other optional ingredient ideas:
Protein powder
Walnuts or other nuts
Dried fruit (bananas, apples...)
Other spices like Chinese 5 spice, nutmeg, ginger
Chocolate chips (Save out to add on top - they will melt if mixed in with the rest of the ingredients! Sprinkle them on the bars after they are pressed into shape, and then gently press them into the top of the bars.)
To add protein powder - mix in up to one scoop (35g) protein powder into the dry ingredients. See what you think of that taste/texture, and then adjust up or down in subsequent batches.
* If using maple syrup for a portion of the sweetener, use 2 cups of oatmeal instead of 1 1/2. You can still blend 1/2 cup of that into oat flour if desired.
If you don't have seeds, don't worry! I add them because I like the nutrition content they bring. But you can leave them out, or add whatever you have instead (other seeds, chopped nuts, etc). I suspect these bars would be equally delicious with just sweetener, peanut butter, and oatmeal. And I'm guessing those are ingredients you probably already have in your pantry!
Nutrition Facts
Peanut Butter Oatmeal Energy Bars (no bake)
Serves: 12
Amount Per Serving 1 bar
Calories

173

% Daily Value*
Total Fat

9

13.8%
Saturated Fat

1

5%
Trans Fat

0

Cholesterol

0

0
Sodium
0
Total Carbohydrate

19

6.3%
Dietary Fiber

3

12%
Sugars

10

Protein

6
| | |
| --- | --- |
| Vitamin A 0 | Vitamin C 0 |
| Calcium 8% | Iron 7% |
* Percent Daily Values are based on a 2,000 calorie diet. Your daily values may be higher or lower depending on your calorie needs.
https://www.cookcraftcultivate.com/cook/peanut-butter-oatmeal-energy-bars-no-bake/
Copyright © 2018 Kristi Stephenson. All rights reserved.