The other day I was craving a hearty grain salad, and also looking for ways to use up some extra veggies from our Singh Farms basket (read about that here). So this farro salad I am about to share was very much a "use up what you have" type of a recipe 😉 After mixing together what I had, I ended up with a Mediterranean inspired dish. Quite tasty!
It turned out so tasty (and colorful), that I decided to snap a few pictures, and save the ingredients to share them back with you all. There's just one thing… I added a little of this and that, with no measuring, until I liked the way it tasted. So, this is more of a flavor inspiration than a true recipe. Take the ingredients and mix away, a little of this and that at a time, until you come up with a salad that tastes good to you. That is half the fun of cooking! I hope this "recipe" gives you some inspiration to try making your own tasty creation.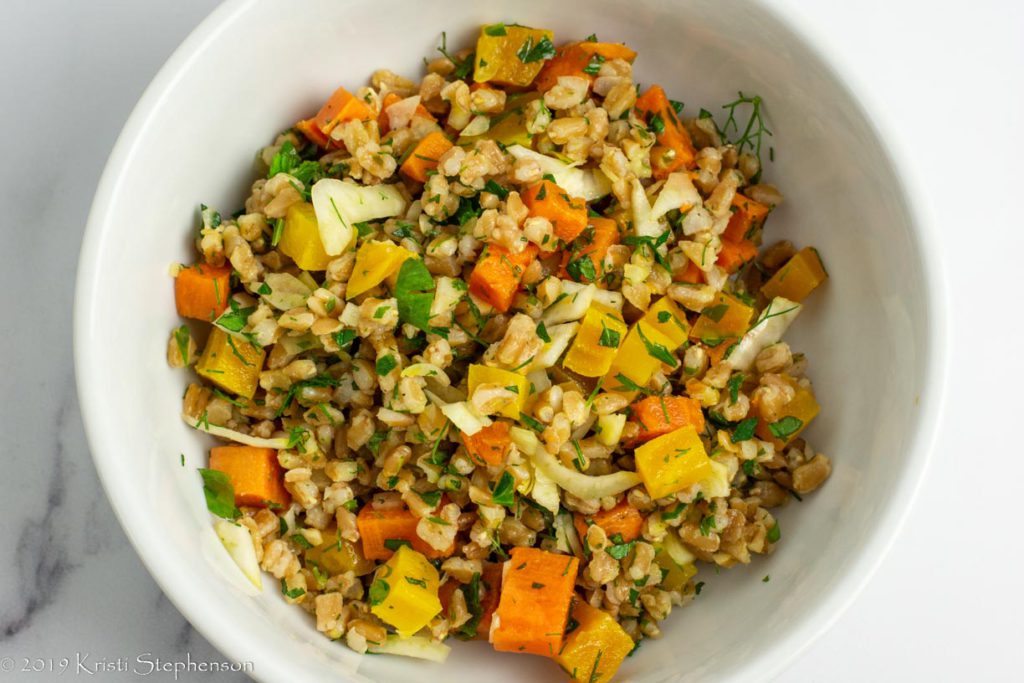 This farro salad is perfect topped with a protein, feta cheese, and a few crushed red pepper flakes.
When I made this salad, we had some extra king crab left over from dinner the night before. Not something I often have handy, but it was delicious topping this farro salad! You could also substitute any other leftover fish (grilled salmon, perhaps), or chicken, as some additional protein.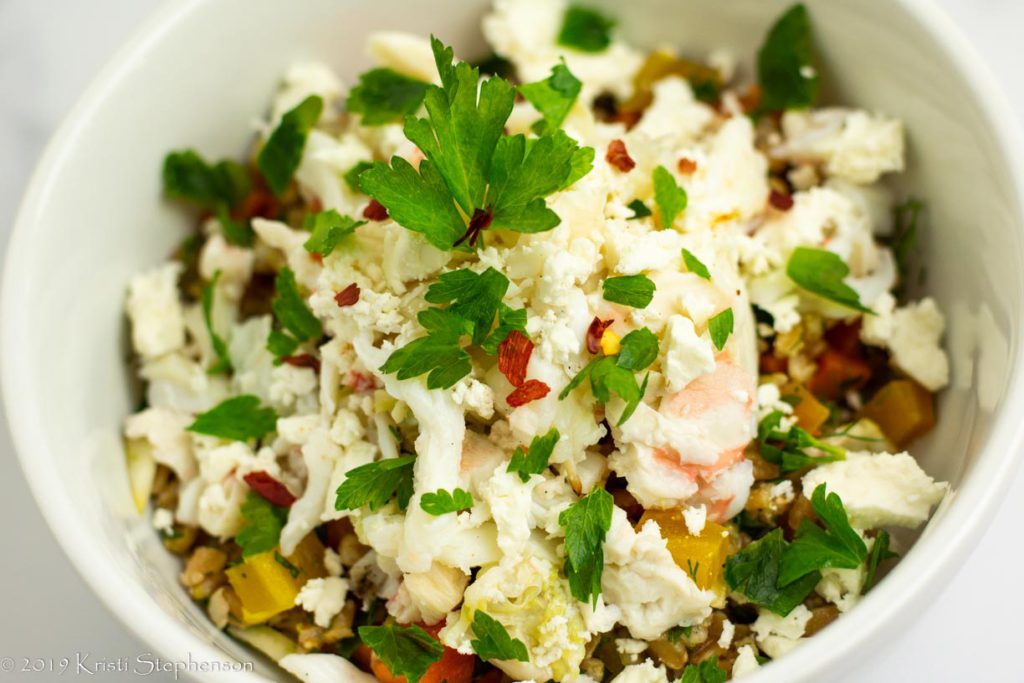 Curious what I included? Here's the ingredient list and a few basic instructions.
Hearty farro salad serves as an excellent main course topped with some protein, or as a side dish to your weeknight dinner.
Ingredients
Farro
EVOO
Mint
Parsley
Lemon zest
Fennel fronds
Fennel bulb
Golden beet
Sweet potato
Salt and pepper
Instructions
Cook Ahead

Farro – cooked until tender but with a little chew left.

I just simmered the farro in water (a 3:1 water:farro ratio) until it was the texture I wanted, then drained it.

Golden beet – baked, skin removed, then minced.

You can bake beet(s) ahead, and just keep them wrapped or in a sealed container in the fridge until you use them. To bake in the oven, rinse and trim the ends, then wrap in foil. Bake at 400°F for about an hour, checking every 20 minutes until a fork or knife penetrates easily. Once cooled, the skin will peel off easily with a paring knife.

Sweet potato – baked, skin removed, then minced.

Did you know you can short-cut bake a sweet potato in the microwave? Just rinse it off, poke some holes evenly all around with a knife or fork, wrap in a damp paper towel, and cook on high for 5 minutes give or take. Turn about half way through, and test occasionally for doneness. The potato is done when it gives slightly to a finger squeeze. For use in this farro salad, you don't want it overly soft!
Finely Chop

Mint
Parsley
Lemon zest
Fennel fronds
Fennel bulb thinly sliced, then those slices chopped
Now that you have everything prepped, time to put it all together

Mix prepped ingredients together in a medium mixing bowl.
Start with the farro, add the beet and sweet potato, then slowly mix in the herbs and other seasonings, adjusting amounts as you go to get the right flavor balance.
Add EVOO, salt, and pepper to taste.
Serve

Spoon farro salad into a bowl.
Top with parsley, red pepper flakes, feta cheese, and protein of choice.
Enjoy!
https://www.cookcraftcultivate.com/cook/mediterranean-farro-salad/
Copyright © 2018 Kristi Stephenson. All rights reserved.