Chocolate Chip Cookie Love
Are you a chocolate chip cookie lover? Do you have a favorite recipe that you go to over and over? I think that chocolate chip cookies are a very personal thing. Some people like them thin and crispy, some like them soft and gooey, some like them with little to no chocolate chips (!), some like them packed full of goodies. And some people like them any and all ways, it might just depend on the craving of the moment.
For years my go-to recipe for chocolate chip cookies has been the classic Nestle Toll House chocolate chip cookie. I've made just a few modifications over the years that I stick to religiously: add a teaspoon of cinnamon, don't pack the brown sugar, add a little extra flour, and sometimes add up to 1 cup oatmeal! Since I've married Hubby, adding in butterscotch chips is now also a must 🙂
You can find a link to this original recipe HERE. And if you have never tried them, you should do it today!
On my venture for better health this year, however, cookies have fallen by the wayside. But a girl (and her hubby) can only live so long without chocolate chip cookies! And so for the last few months I have been trying several different substitutions to cut back on calories, fat, sugar, carbs. But still maintain a yummy cookie taste and texture. I wanted to share some of the substitutions I've tried, in case you are in a baking exploratory mode as well.  Or maybe you've been searching for a healthier chocolate chip cookie recipe you can add to your baking repertoire. Well, perhaps my ideas below will get your own creative juices flowing. I'd love to hear what you've tried as "healthy" substitutes in some of your baking recipes!
I've also landed on an EXCELLENT modified "healthy twist" recipe that I wanted to share – you'll find it at the end. It has become my new go-to!
Substitution Options
The Fats
The classic recipe calls for 1 cup of unsalted butter. I've tried different substitutions for up to half of this fat. Here's a list of substitutions I've tried for 1/2 cup of butter:
8 oz avocado (!) Yep, I tried this, and it worked! It made the color of the cookies a little off, and they did taste more "healthy," but overall texture and flavor was pretty good.
1/2 cup unsweetened applesauce. After trying this, I prefer it to the avocado in both final taste and texture. It also cuts out more calories, so added bonus there!
Coconut oil. Most recently I've been substituting 1/2 cup of coconut oil for the 1/2 cup butter, and then still subbing in applesauce for the other 1/2 cup butter. I've also tipped this from half and half to one third/two thirds and it turns out nearly the same. See recipe at the end!
Eggs are also found in the classic recipe, and I've tried substituting egg whites instead – 4 tablespoons egg whites for 1 egg. Try substituting in for just one, or both!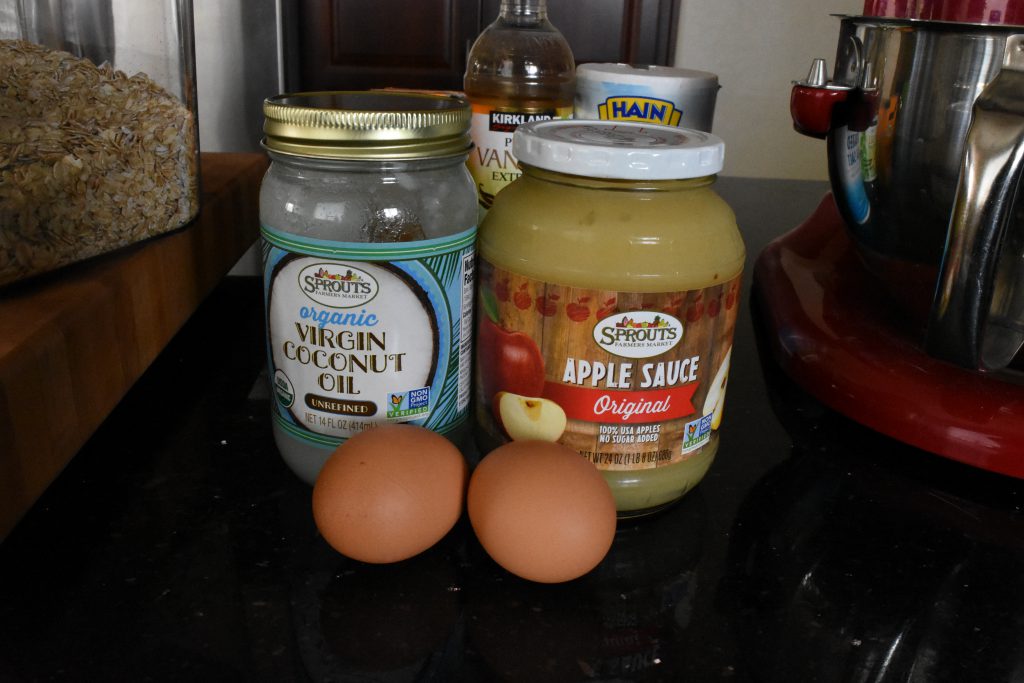 The Sugars
The easiest way to cut back on sugar is to simply reduce how much you use.
The classic recipe uses 3/4 each granulated and light brown sugar. I have regularly cut this back to 1/2 cup each, and you'd never know!
I've also substituted 100g Medjool dates (softened in hot water and blended to a paste) for the full 1 cup of sugar (1/2 cup each granulated and brown). This is a good option if you are trying to cut back on processed or refined sugars. I found that it worked quite well, and added in plenty of sweet. You do need to cut back on some moisture somewhere else to account for the "paste" of the dates. If you are using applesauce as a fat substitute, you can reduce that amount by about half.
Measure the chocolate chips! You might find you don't need as many to still get a well-balanced dough.
The Flours (whole grains, carbs)
I've also played around with different flour combinations to cut back on carbs, and add in some extra whole grains. Almond flour, while not lower in calories, is much lower in carbs that all purpose or whole wheat flour. And substituted in at less than half the total flour volume it doesn't impact texture at all that I've noticed. I've also read a lot about whole wheat flour substitutions, and what most people say is that substituting up to half the volume of all purpose flour with whole wheat flour won't impact the final texture/density. So I like to use a combination of all purpose flour, whole wheat flour, and almond flour. With some bonus old fashioned oatmeal for texture and whole grains.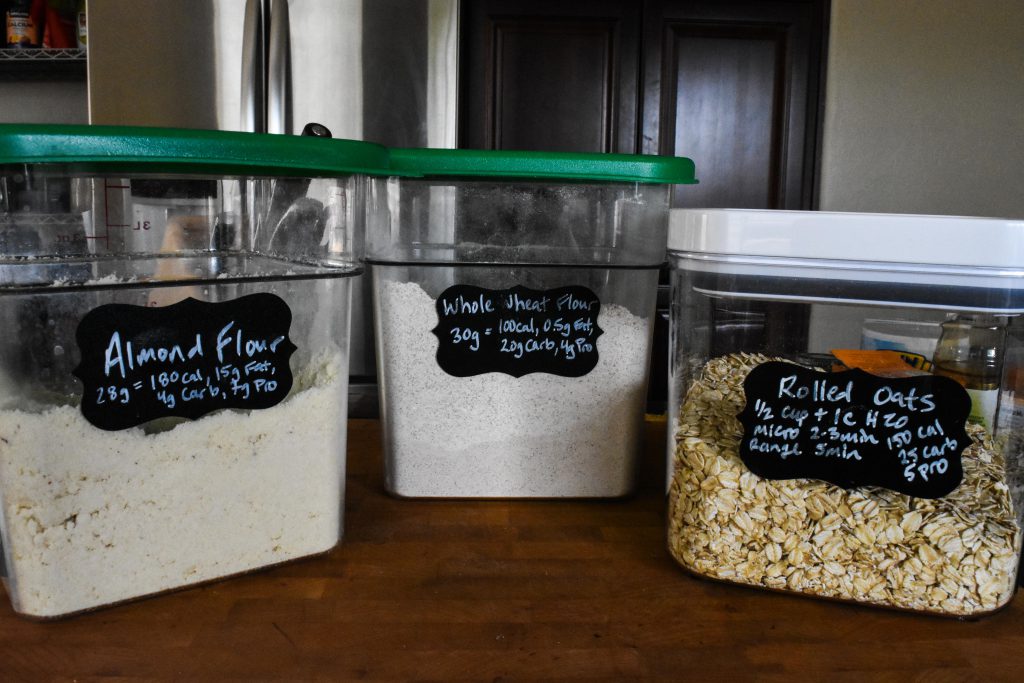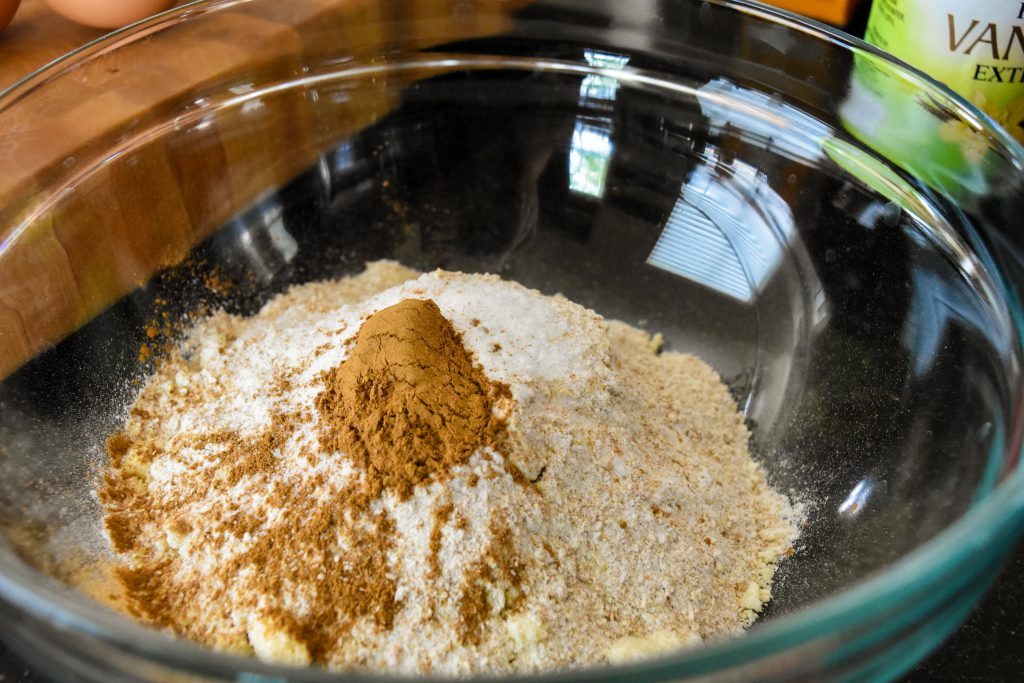 The Healthy Twist
So… putting it all together, here's the twist for a healthier chocolate chip cookie that I've settled on lately. It's a real winner, and one I hope you'll try as well! Compare it with the nutrition breakdown of the original Nestle Toll House recipe. My goal was to get a cookie close to 100 calories, and this does it, without sacrificing flavor.
new -vs- old
Calories: 106 -vs- 160
Fat: 5g -vs- 8g
Carbs: 14g -vs- 20g
Protein: 2g -vs- 2g
Fiber: 1g -vs- 1g
Sugar: 9g -vs- 14g
Ready? Give this one a whirl! For another creative twist – check out my banana coconut chocolate chip cookie recipe!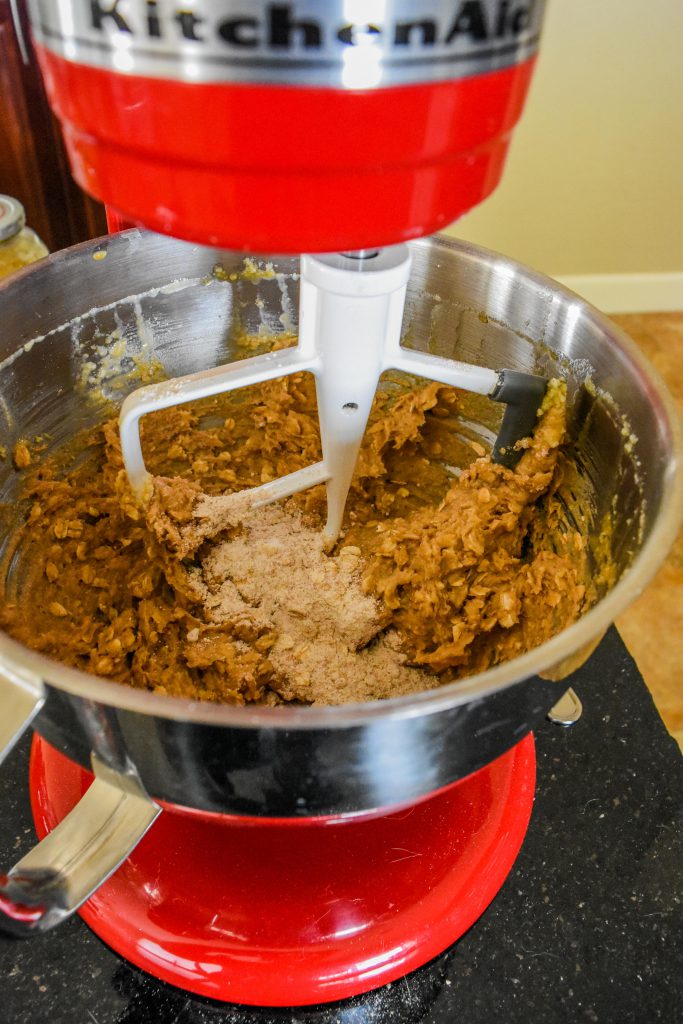 Healthy Twist on Nestle Toll House Chocolate Chip Cookies
A healthy twist on the classic Nestle Toll House chocolate chip cookie recipe. This recipe cuts back on fat, sugar, and carbs, then adds in some whole grains.
Ingredients
Dry

All-Purpose flour, 1 cup
Whole wheat flour, 1/2 cup
Almond flour, 1/2 cup
Rolled oats, 1 cup
Baking soda, 1 teaspooon
Salt (iodized sea salt), 1 teaspoon
Cinnamon, 1 teaspoon
Wet

Large egg, 1
Egg whites, 4 tablespoons
Applesauce (unsweetened), 1/2 cup drained
Coconut oil (extra virgin/unrefined), 6 (up to 8) tablespoons
Granulated sugar, 1/2 cup
Light brown sugar, 1/2 cup
Butterscotch morsels (Nestle), 75g
Semi-sweet chocolate morsels (Nestle), 100g
Instructions
Pre

Pour applesauce into a strainer and let sit over the sink or an empty bowl while you prep the rest of the ingredients.

(This step helps to drain out some of the extra water. I have made this recipe without straining the applesauce and it works just fine. But if you remember and have a few minutes, the final dough texture is a bit more firm after straining.)
Dry

Add all the dry ingredients

except

for the oatmeal into a large bowl, and whisk together.

(If the oatmeal is included at this step it makes getting a homogeneous mix of the finer ingredients more difficult.)

Add the oatmeal to the rest of the dry ingredients and mix it in well.
Wet

Measure the sugars into a mixing bowl that you can use either a hand mixer or the paddle attachment of your electric mixer with.
Add the coconut oil, and mix until well blended.
Add in the eggs, and egg whites, one at a time.
Mix on the highest speed you can without flinging dough everywhere 🙂 and mix for 1-2 minutes this high - you are just trying to get some air incorporated for an extra "lift" to your batter.
Add in the vanilla.
Add in the applesauce (it should have lost some of the extra liquid by now), and mix at low-medium speed until well incorporated.

(see notes)

Scrape down the sides of the mixing bowl periodically to be sure ingredients aren't getting left out!
Combine

Slowly add the dry ingredients into your wet ingredients. I usually add about 1/3 at a time, mixing on low speed, and let wet and dry fully incorporate between additions.
Transfer the mixing bowl to a scale, and weight out the goodies into the bowl, then mix by hand to incorporate.
Chill, Bake, Eat

Chill the dough for a couple hours up to overnight.

(I have made this recipe baking the cookies immediately. They turn out more flat, but have crispy edges and bake up just fine. If you chill first you will get more of a "mounded" cookie like you see in the picture above. So choose the option that matches your cookie preference!)

Preheat the oven to 375F.
Scoop the dough onto a baking sheet, and bake for ~8 minutes, until just turning golden brown, but still very soft in the middle. This will get you a slightly gooey finished cookie texture.

(I like to use a 1 1/2 Tablespoon cookie scoop filled just below level, and this ensures I get about 36 evenly sized cookies. If I do it by feel they always turn out bigger, and then the calorie calculations are off!)

Let the baked cookies sit on the cookie sheet for 3-4 minutes before transferring to a cooling rack to cool completely.

(If you transfer too soon, you will likely squish the warm cookies, and maybe leave some of the melted morsels behind, stuck to the sheet.)

Eat fresh within a couple days, or freeze for up to a month and enjoy straight from the freezer, or bring to room temperature and then enjoy.
Notes
For the goodies - I have found one great way to control the calories going into these cookies is by weighing out the goodies. It is easy to have a free hand with these, but if you weigh them out you have to be more thoughtful about how much you are putting in, and how much you need to still make a yummy cookie, but not overdo it. You can also add in different varieties of chocolate here. Butterscotch and semi or dark chocolate just happen to be our favorites 🙂
After adding in the applesauce the batter will be a bit lumpy. Don't worry! Just mix to incorporate. The lumps will disappear when you bake, and you'll never know they were there.
https://www.cookcraftcultivate.com/cook/healthier-chocolate-chip-cookie-recipe/
Copyright © 2018 Kristi Stephenson. All rights reserved.